What happened in the Meltano universe in the last four weeks? We published a massive article on ELT 101, crossed 1,000 stars on GitHub (yours too?), and … went into Public Cloud Beta!
=> Read the full beta announcement
Let's get to the details. 
ELT 101 – What and Why
We couldn't find a great ELT 101 article, so we wrote one! After all, ELT is the future of data engineering, what most of the modern data stack is built on, and the pattern Meltano embraces.
Read through this article to get a deep insight into the what and why of ELT.
Cloud: you build pipelines, we keep them running!
Thank you! We got great feedback on the private alpha and beta. Only with your feedback were we able to move this fast!
Now is the time to sign up if you haven't already.
BTW: If you're quick, you still have a chance to claim 1000 (yes, a thousand) credits equalling 2,000 hourly runs for free! Just sign up using the link below!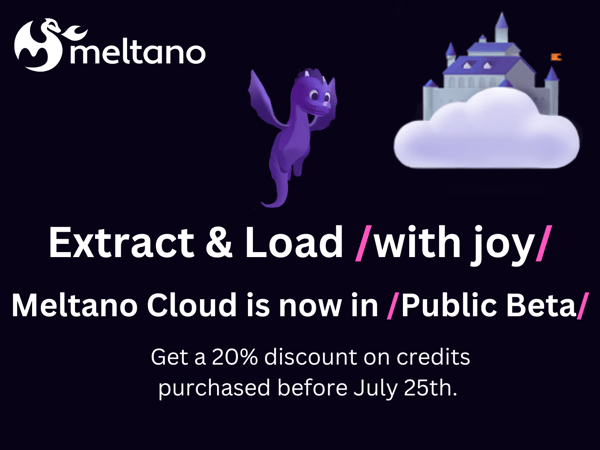 What got shipped?
As we're opening up our Cloud offering we still had time to ship another release of the SDK, v0.27.0 and a fix on Meltano itself. With community support from @BuzzCutNorman & @rawwar, we got some fun new features for tap developers. You can now lint projects generated from the cookiecutter template and deselect streams by default.
Community & Hub updates
This month we again saw much action on the hub, including our own investment into a bunch of high-quality taps like the ones for Facebookads, LinkedIn ads, klaviyo and kustomer down below! 
Additions
Meltano Related Content
A lot is happening around Meltano on the web. We're selecting a few pieces here. Be sure to check them out.
Keep on being Meltastic! And if we missed your contribution to the community, just hit us up on Slack, LinkedIn, or wherever.